Credit to Nicole Henseley  investigative reporter at The Houston Chronicle for this complied report shown below. It is certainly relevant to the scope of Brett Ligons criminal conspiracy investigation that the computer of  "Lyin Joe" Bishop Fiorenza, was seized along with the of his successor Cardinal Daniel Dinardo. Fiorenza, a homosexual liek Dinardo,  is a  former President of the US Conference of Catholic Bishops  like Cardinal Dinardo presently. Lyin Joe was appointed in 1979  as Bishop by the newly  elected JPII to Galveston/Houston, who in the same year appointed Joseph Bernadin  as Archbishop of Chicago and Roger Mahoney to Los Angeles. All three bishops were militant homosexual agenda promoters nationally in the Church, two as Cardinals, promoting said agenda through the US Conference of Catholic Bishops
Lyin Joe Fiorenza as Bishop of Galveston/Houston in the early nineties is initially solely responsible for "Gay South American Pipe Line seminarian" Fr. "Manny" de la Rosa Lopez recruited to study at St. Mary's . When sexually assault charges of a minor were leveled while in seminary in 1991 against  de la rosa Lopez  Fiorenza  after counselling admitted Lopez  whitewashed back into St. Mary's Seminary and eventually  ordained  Lopez to the priesthood as Bishop.  Fiorenza as Archbishop two years after the 2002 Essential Norms  so called "Zero Tolerance" policy in 2004 when Fr. Manuel was sexually assault minors at Sacred Heart, Conroe, Texas in the Archdiocese of Galveston Houston under Fiorenza,  released the number of "26" priests and four deacons "publicly" as "credibly accused" over several decades, but did not make public the names, or state if the names were reported to local police authorities as required by the 2002 Essential Norms "zero tolerance" policy mandated explicitly.  The 2002 Zero Tolerance Policy was orchestrated at the time as a P/R ploy to save culpable Bishops from a Boston Globe media feeding frenzy, who fueled child sexual assault  by clerics in the Church by un cover up cover up enabling engineered by  Cardinal Roger Mahoney and Cardinal "Uncle Ted" McCarrick both like Fiorenza and Dinardo homosexuals. Like  Uncle Ted McCarrick open secret of sexually assaulting seminarians at his beach house, Bernadine was credibly accused by one of his Chicago seminarians of sexual assault-who died of AIDS before Bernadine could be completely litigated in the case (The Rite of Sodomy- Randy Engel).  The LA Diocese under Cardinal Mahoney paid out almost 700 million dollars to clerical child abuse victims.
Oliver Francis O'Grady (born June 5, 1945) is an Irish laicized Catholic priest who raped, molested and abused at least 25 children in California from 1973 onwards. His abuse and Cardinal Roger Mahony's attempts to hide the crimes are the subject of Amy J. Berg's documentary film Deliver Us from Evil in 2006.
Mahoney was under Benedict and through the auspices of Cardinal Dinardo removed from public ministry for his part in LA in clerical child abuse uncover up cover up although like McCarrick recently rehabilitated inspite of Benedict's sanctions by Francis. Mahoney appeared and participated at the Baltimore USCCB meeting subverted by Francis through Archbishop Cardinals Cupich of Chicago and Donna the girl Wuerl, Apostolic Administrator, D.C.
The fact lyin Joe in wake of the 2002 Zero Tolerance guilty bishops' PR ploy (Although the 2002 Essential Norms" never implemented would have de facto ended by eradication  if implemented clerical child sex abuse in the Catholic Church, "zero tolerance" was never implemented obviously by any of the bishops) allowed Fr. Manuel to be associate pastor at Sacred Heart, Conroe knowing intimately his history at the time lyin Joe in a PR ploy announced the incredible number "26" credible accused priests, cast serious  aspersions on Joe Firoenza's  list of credibly accused "26" priests, four deacons. In other words, lyin Joe was lyin.  This same  incredible list of 26 would have simply have to be updated by Dinardo since 2007 when Dinardo became Arch Bishop to be presented in the magical month of January, but nonetheless would not be factually credible from Dinardo's mouth as it was not from lyin Joe's.  Bishopsaccountability.org roundly mocked Fiorenza's 26 number as deceptive under reporting far below national averages – 2018 PA AG Grand Jury Report- 300 hundred priests alone- for example. Moreover, Fiorenza did not make the "credibly accused" Priest names public to alert the public and parish parishioners, nor inform local law enforcement authorities in violation of the 2002 Zero Tolerance policy.  As a consequence, Fr. Manuel, Frs. Brinkman, and Keller, and many other "credible accused priests" without the knowledge of parishioners and Catholic children are kept in active parish ministry around Catholic children by Fiorenza and then his successor Dinardo.  Manuel,  Several other cases are documented in
Frs. Manuel, Brinkman, and Keller cases are clear violations of the 2002 Essential Norms Zero Tolerance Document  which mandates "credible accused" perpetrators of sexual  battery against children are to be suspended from public ministry and reported to police authorities. Zero Tolerance is One strike and your out. If only one credible crime of clerical child abuse is substantiated by evidence, the cleric is to be permanently banned from priestly ministry or ny other ministry  in the Church, and defrocked. Clearly Fiorenza and Dinardo in Fr. Manuel's case because of their homoerotic relationship with Manuel and others subverted the 2002 Zero Tolerance Policy.  As such, Lyin Joe and USCCB Pres. Cardinal Dinardo  should as Accomplices after The Fact in Manuel's case be indicted by DA Brett  Ligon's State Grand Jury.
Authorities: Cardinal DiNardo's computers were seized in search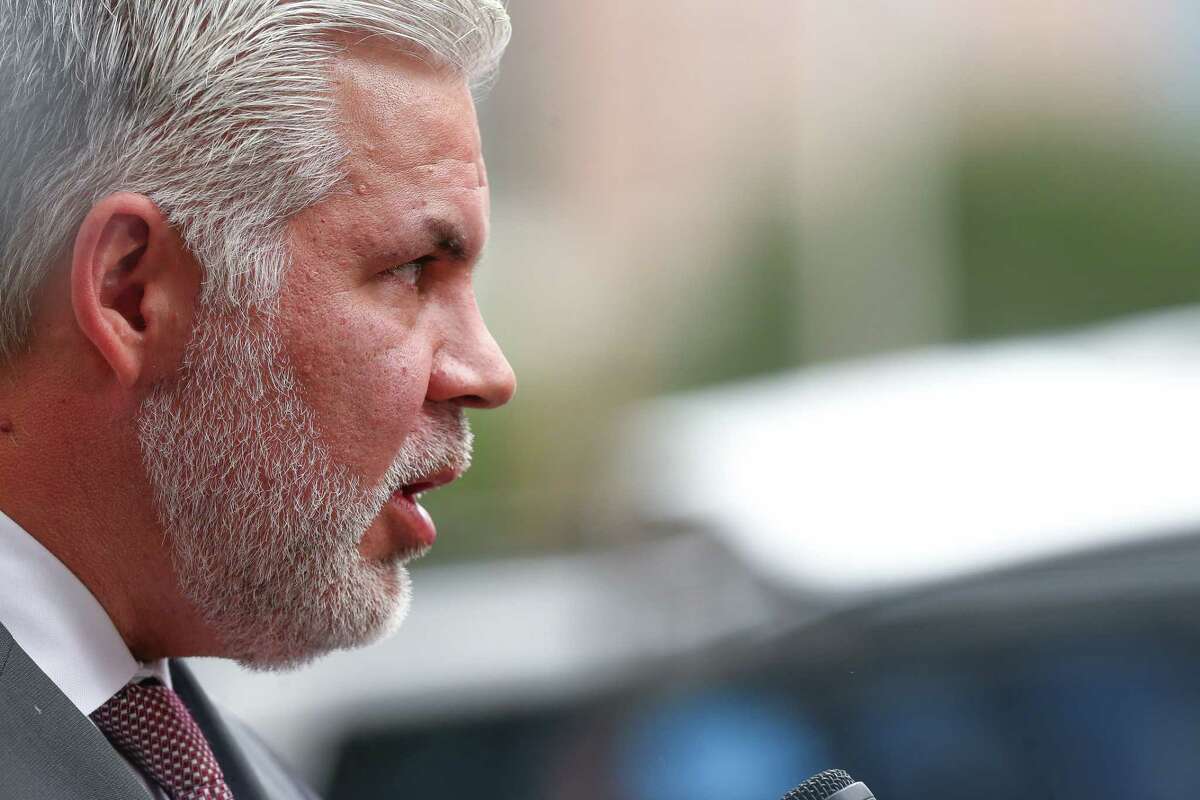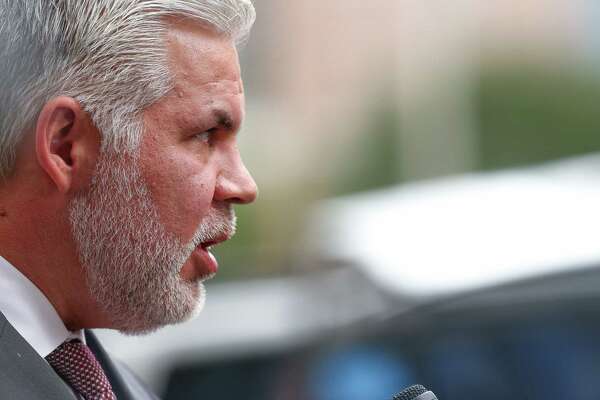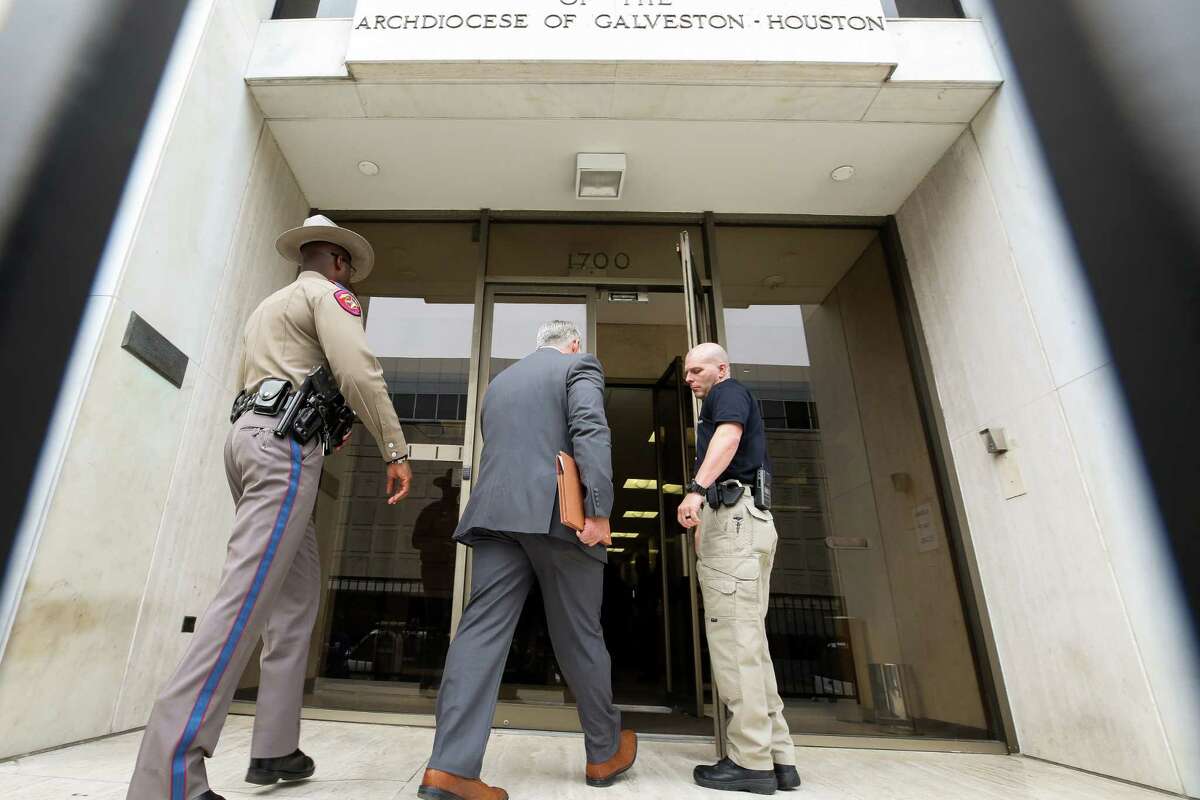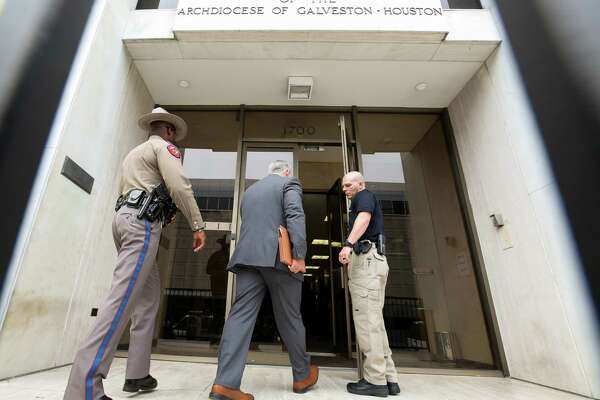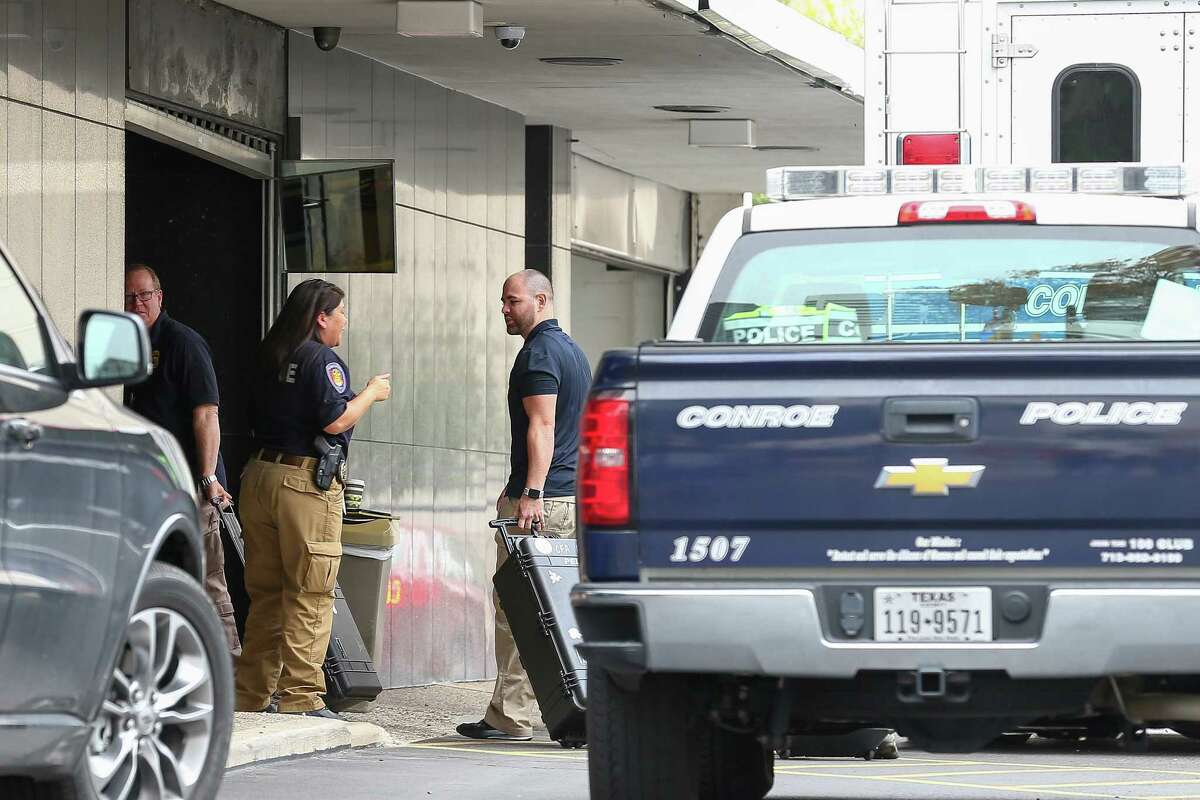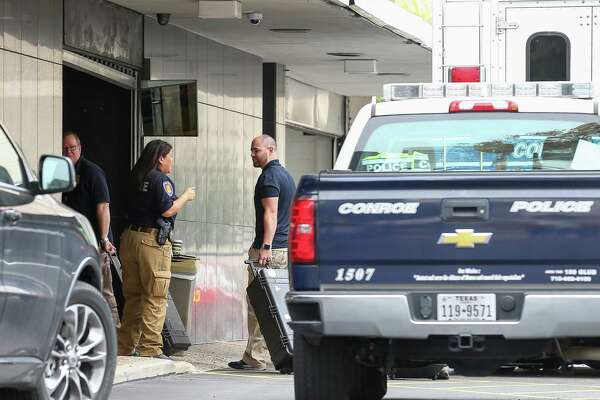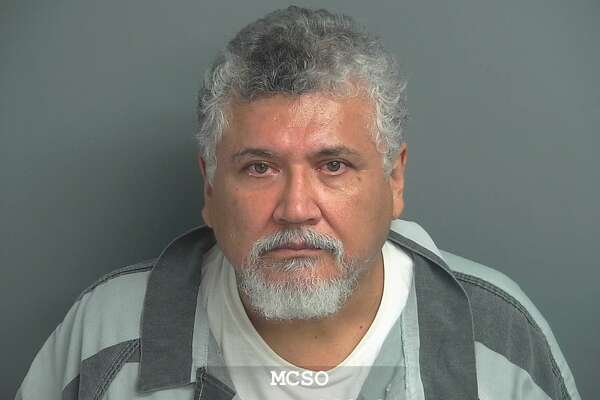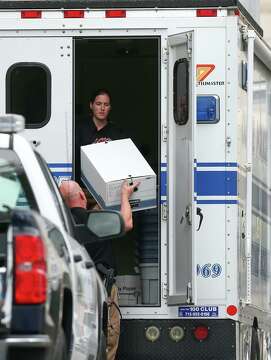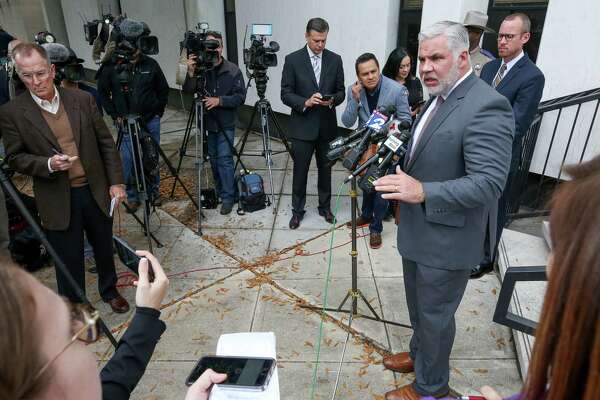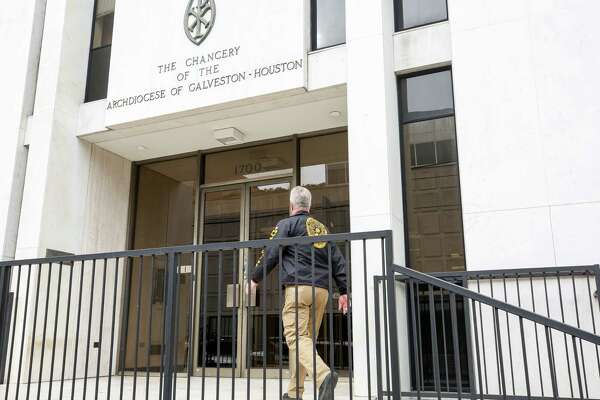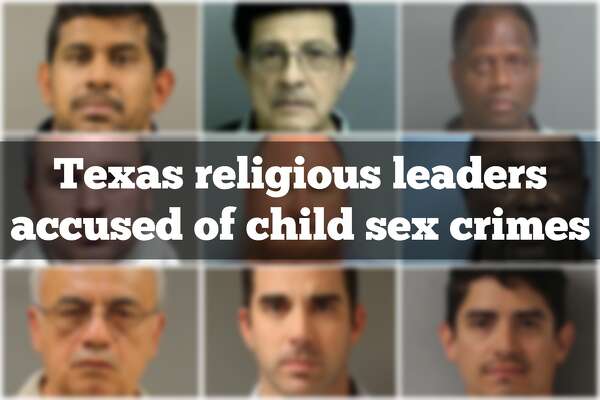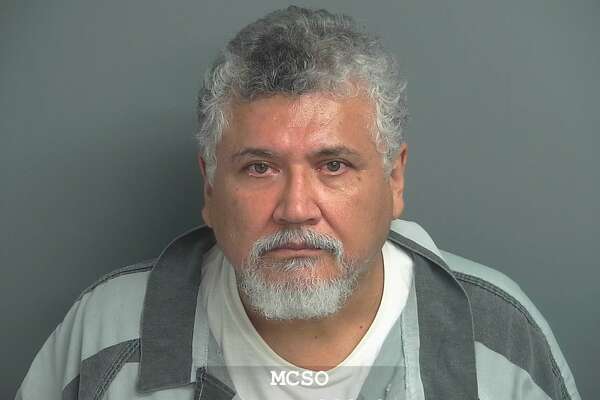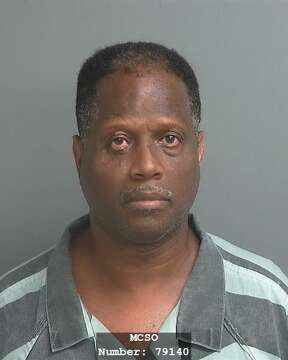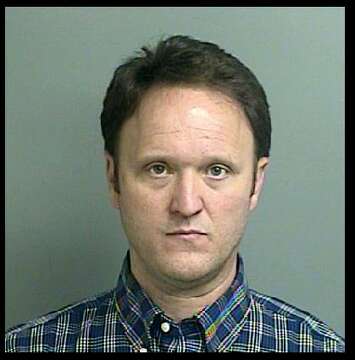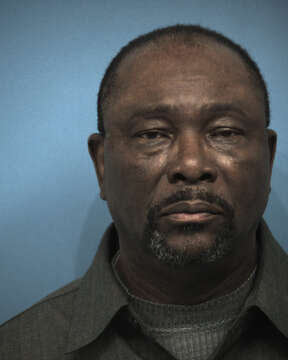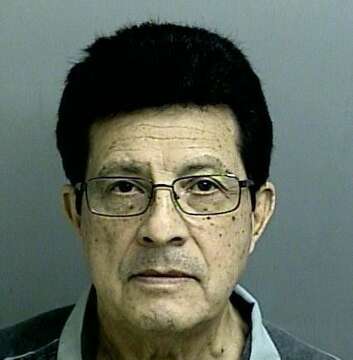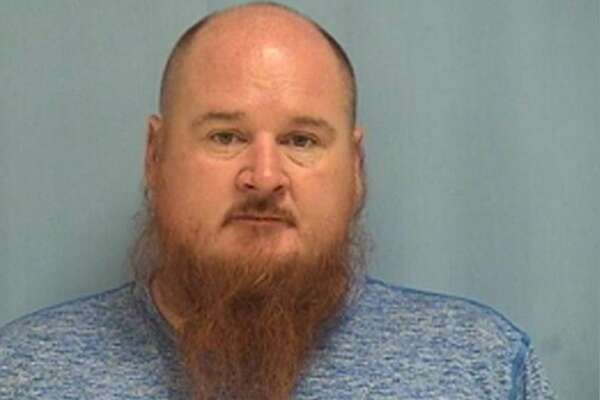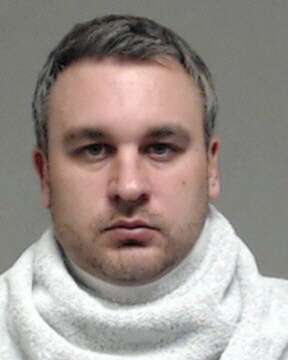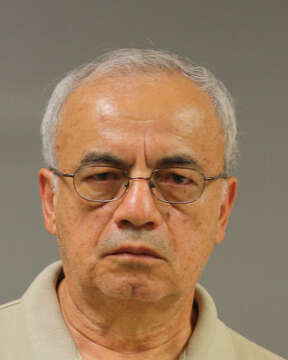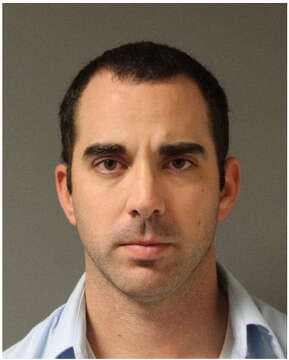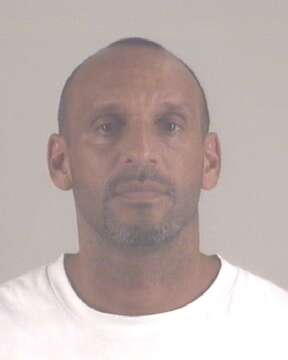 Preliminary log of what was seized during the search at the Archdiocese of Galveston-Houston included at least three of Cardinal Daniel DiNardo's computers but was mistakenly made public Friday, according to Montgomery County officials.
The document shows investigators on Wednesday took multiple files on accused priest Manuel La Rosa-Lopez and several other clergy members, including Alberto Maullon, who is a judge on the Diocese Tribunal, and who pleaded guilty to indecent exposure charges related to an adult bookstore sting in 2010. Documents on Terence Brinkman, who was sued in 2010 for allegedly molesting a boy in the 1970s and still serves as a pastor at St. John the Evangelist in Baytown, were also seized by investigators.
Authorities who executed a sweeping search warrant for one of the largest dioceses in the nation also sought records related to La Rosa-Lopez's counseling at the Shalom Center in Splendora, the target of a prior search warrant. Investigators were also looking for a diary that he was required to keep while working as a priest at Sacred Heart Catholic Church in Conroe and St. John Fisher Church in Richmond, both of which were searched.
It was not clear from the document if investigators located the diary inside the archdiocese.
Efforts to reach the archdiocese Friday evening were unsuccessful, but Archdiocese spokesman Jonah Dycus in a statement on Wednesday acknowledged the search warrant and the ongoing investigation.
"The Archdiocese of Galveston-Houston continues to cooperate, as we have since the outset, with this process," according to the statement. "In fact, consistent with Cardinal DiNardo's pledge of full cooperation, the information being sought was already being compiled."
Montgomery County Assistant District Attorney Tyler Dunman on Friday verified the handwritten document but, even though he said it's now in the public record, he cautioned that it is not the final inventory of what was taken from the church headquarters on San Jacinto Street.
Retrieved from 'vault'
The record included the location of where evidence was found and which investigator seized it, which Dunman said would have never been included in the formal version. An official log of evidence in search warrants can take days, if not weeks to compile.
Some of the computers of DiNardo, who is president of the U.S. Conference of Catholic Bishops, were taken from the third floor out of what was described as a "vault." A computer used by DiNardo's predecessor, former Bishop Joseph Fiorenza, was also taken from the downtown Houston office of the archdiocese.
Montgomery County District Attorney Brett Ligon said Wednesday that members of Texas Rangers joined their search and they would take control of evidence of additional victims and accused priests believed to be outside his jurisdiction. At least two boxes labeled in the inventory as "sexual allegation files" were seized in the search, the document states.
Depth of scandal
Fiorenza led the then-diocese in 2002 as the Boston Globe reported on the depth of the priest sex abuse scandal. Two years later, he revealed the diocese had found 22 priests and four deacons to be credibly accused of child sex abuse dating back several decades while participating in the John Jay Report, a survey commissioned by the U.S. Conference of Catholic Bishops.
The tally only accounted for allegations deemed credible after internal investigations.
The Chronicle found nearly 20 clergy members publicly accused of child abuse in news accounts and court records, suggesting that additional cases of credible accusations were never made public. La Rosa-Lopez has been charged with four counts of indecency with a child for incidents that began in 1998 and spanned three years.
Massarah Mikati contributed to this report.
nicole.hensley@chron.com